Lorelton Assisted Living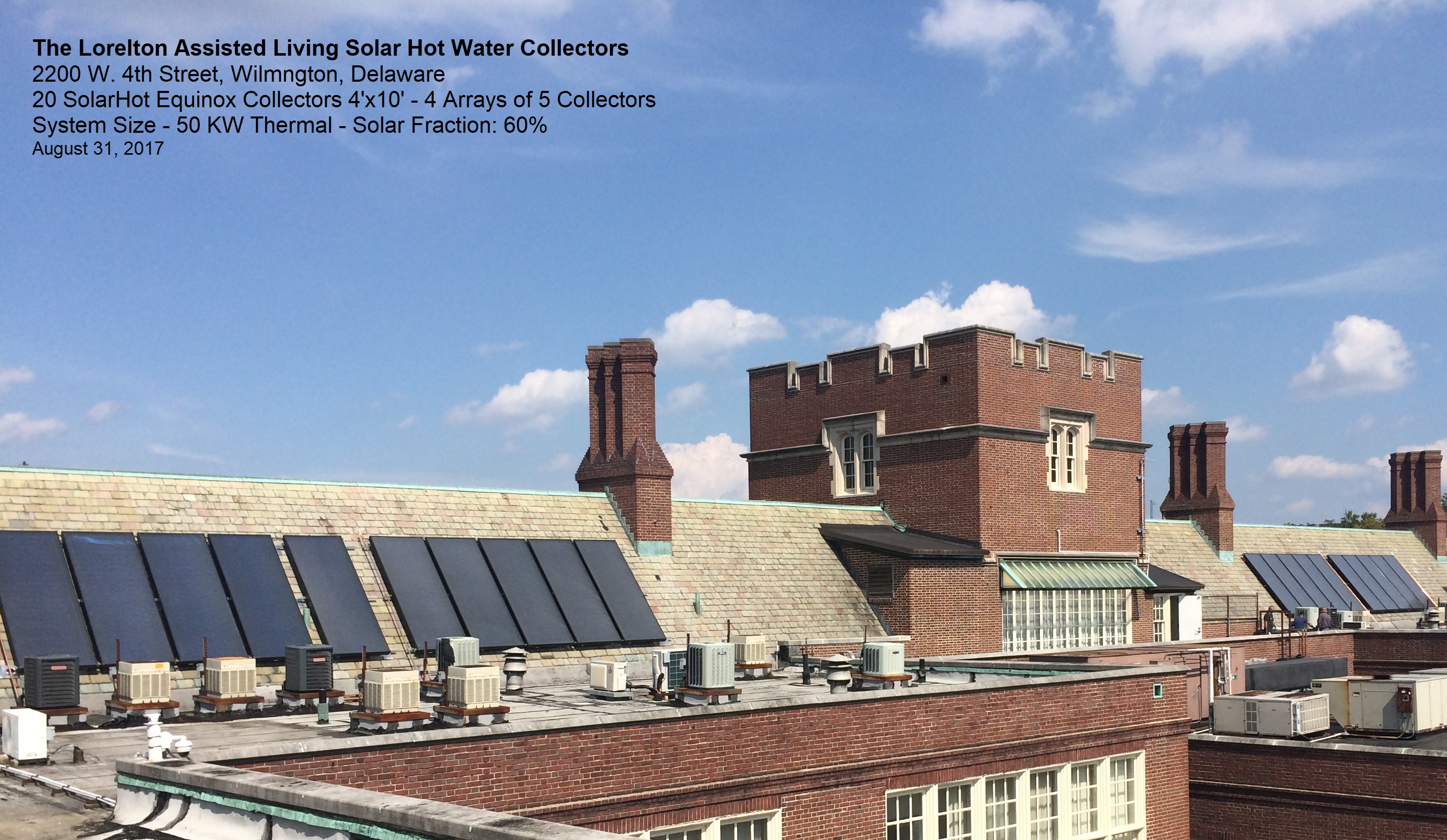 August 31 2017
Welcome
to The Lorelton where a home like atmosphere of laughter, activity, enticing aromas, pets visiting and a smiling staff await you!
The Lorelton Assisted Living Community is owned and operated by The Lorelton Foundation, a non-profit organization.
Our community is located in the historic and charming Charles B. Lore school building. Our neighborhood style community rests within a quiet 'suburb feel' of the city, offering the largest apartments with huge windows, and high ceilings. Among just some of the amenities, The Lorelton offers

affordable and exceptional

24/7 nurse care, a Recollection's Program, wellness checks and medical appointment transportation.
Lorelton Assisted Living Solar Hot Water Project:
The goal for solar hot water is to pre-heat the cold water supplied to the building from the City of Wilmington, Delaware. The assumptions for assessing the potential energy savings for solar pre-heat of the city water are based on the meteorological and environmental conditions at the building location.
The current number of residents is 100 after completion of recent construction of a new wing. Our analysis is performed for 100% capacity at 18 gallons of hot water per resident per day.
The building slate roof allows for twenty 4'x10' collectors to be attached at a 49 degree tilt and facing 209 degrees true.
Over all efficiency of the existing conventional hot water system is 40%. This includes all aspects including boiler, distribution, return and heat exchange with incoming water.
A Polysun simulation model is used to project combined solar and conventional hot water system performance.
The Polysun estimates are reasonable estimates based on the above assumptions. Actual results may vary based on a variety of factors including, but not limited  to, actual usage, building and conventional system performance, weather, etc.
Solar Model Conclusions at Full Occupancy:
A Solar Pre-Heat System consisting of twenty 4'x10' SolarHot Equinox Solar Collectors, a Skid Mounted Heat Transfer Station and a 800 Gallon Atmospheric Solar Storage Tank will provide around 60% of the annual hot water needs during a typical weather year.
System monitoring with SolarWave Energy's technology will permit the precise measurement of solar hot water production in order to verify the energy savings.
The projected annual energy savings will be approximately $8,400 per year.
Project Services:
Engineering:  Blake and Vaughan, Wilmington, DE
Equipment and Design:  SolarHot, Raleigh, NC
System Installation:  Apex Piping Systems, Newport, DE
Roofing Installation:  Farrell Roofing, Middletown, DE
Project Sales:  Solar Unlimited, Lewes, DE
Project Financing:  Delaware Sustainable Energy Utility, Dover, DE
Pipe Insulation:  Atlantech Distribution, Raleigh, NC
System Monitoring:   SolarWave Energy, Cambridge, MA